Our cap girl of the month is the lovely Stefanie aka Pepper van Hyvest. This 24 year old bombshell and founder of HYVEST will tell us all about her tattoos, her clothing brand and love of cats.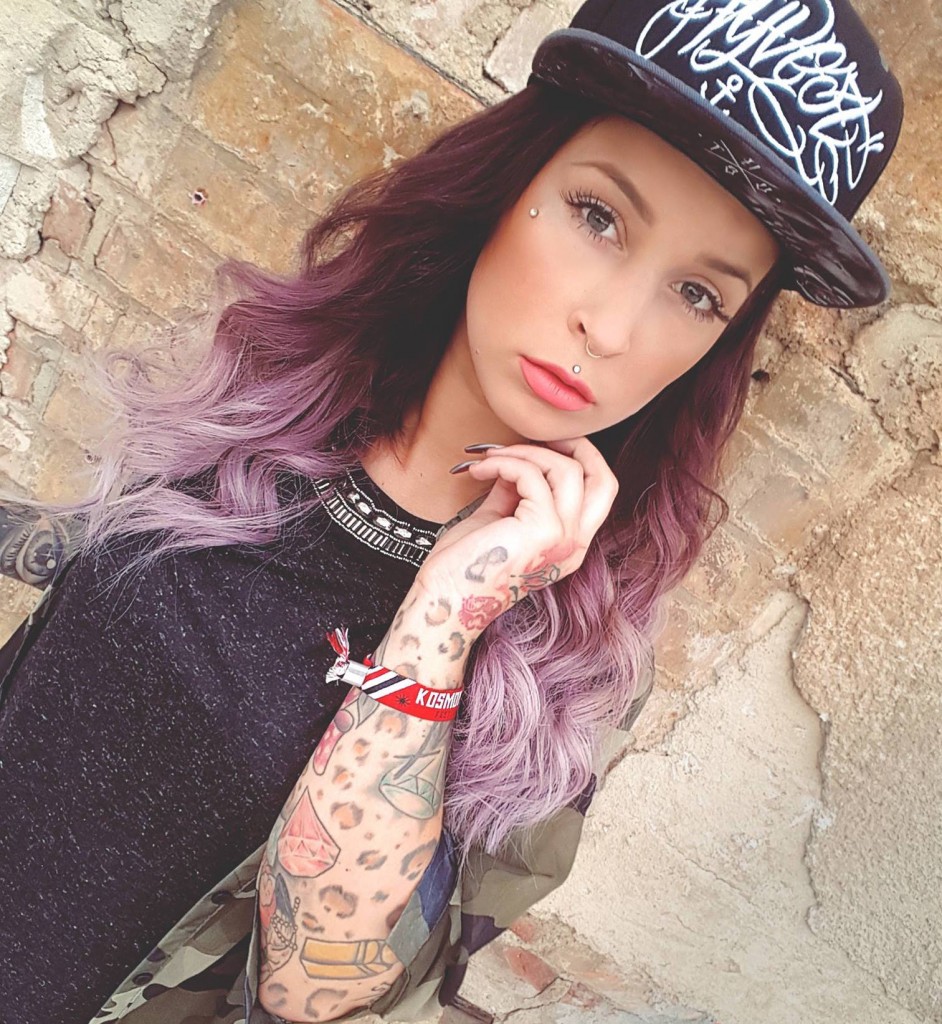 Hi Stefanie! Stell dich doch bitte kurz vor!
Ich bin 24 Jahre jung und komme aus Chemnitz in Sachsen/DE. Ich bin eine verrückte Tante, die viel für Make Up, verrückte Haarfarben und Tiere übrig hat. Bin selbst eine Katzenmama und liebe es, Zeit mit meinen Stubentiger zu verbringen. Wenn ich nicht gerade arbeite, bin ich gerne überall wo Wasser ist. Das befreit den Kopf und lässt die Seele baumeln.
Hi Stefanie! Please introduce yourself!
I am 24 years old and I am from Chemnitz, Saxony. I am a crazy girl with a passion for make up, crazy hair colors and animals. I am a cat mummy and I love spending time with my little "tiger". If I'm not working, I love to spend my time anywhere that has water, it's the perfect way to clear your head.
Unter deinem Namen Pepper Van Hyvest hast du fast 50k Follower auf deinen Social Media Kanälen, wie ist es dazu gekommen ?
Gute Frage. Ich hab mir einfach Mühe gegeben :D Es ist wichtig, seinen Followern zuzuhören was sie interessiert und immer auf dem Boden zu bleiben. Mit abgehobenen Statusposts kann sich keiner identifizieren und jeder will mich selbst, unverstellt sehen. Auf meinen Kanälen sieht man mich mitten im Alttag, privat mit meinem Freund oder auch bestens zurecht gemacht für Shootings. Ich denke die Mischung machts, um zeigen zu können, dass ich ziemlich vielseitig bin. Seitdem ich meine Seiten habe, habe ich dieses stets befolgt und bin jeden Tag dankbar für alle, die mir folgen; denn selbstverständlich ist das nicht. Und genauso mache ich auch einfach weiter :)
Under the name Pepper Van Hyvest you have more than 50k followers on your social media channels. How did this happen?
This is a good question, I just put a lot of effort in it. It's important to listen to your followers, be aware of what they are interested in and to stand your ground. No one can identify with pretentious status updates, people really just want to see the real you. I show my followers me in my daily life, from just chilling with my boyfriend to getting dressed up for a shoot. I try to find the perfect mix so that I can show all my different sides.  Since starting my social media channels, I've made sure to always remain true to myself and I am grateful everyday for every single person that is following me, this is really something I do not take for granted. I this is how I mean to go on :)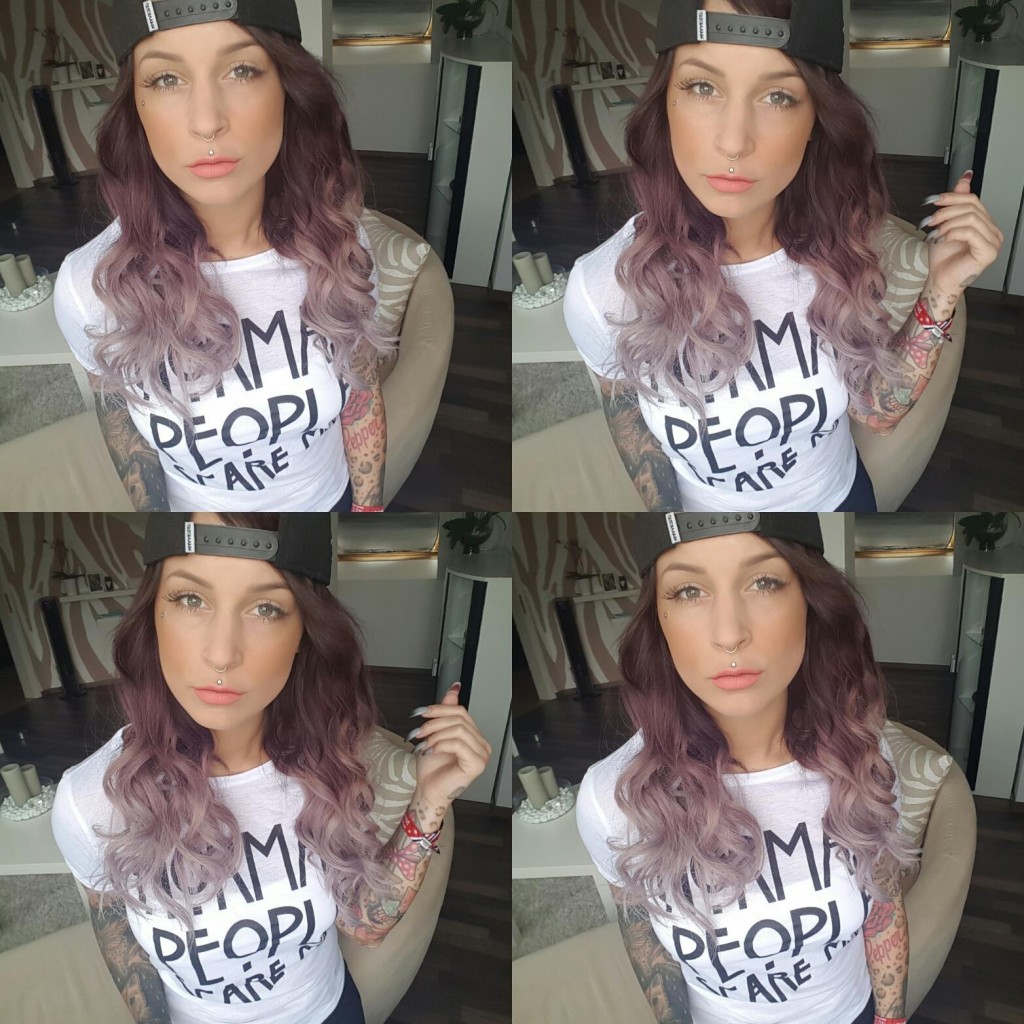 Du hast deine eigene Fashion Brand gegründet. Erzähl uns bitte mehr darüber!
Mein Label HYVEST wird im Oktober 4 Jahre alt und hat sich in dieser Zeit ziemlich weiter entwickelt. Angefangen hat alles mit Plugs für gedehnte Ohrlöcher. Schnell kamen dazu noch die einen oder anderen Schmuckstücke dazu. Mittlerweile führe ich Klamotten, Lifestyle-Artikel und eigene Caps im Sortiment. Ich wollte unbedingt individuelle Sachen anbieten die sich absolut von der Masse abheben. HYVEST bedeutet schlichtweg gar nichts und soll einfach gut klingen und sich im Kopf festsetzen. Man weiß nie wo die Reise hingeht; deswegen wollte ich unbedingt einen neutralen Namen. Ich bin selbstständig und habe keinen weiteren Job. Da das Tätigkeitsfeld echt umfassend ist, habe ich immer mehr als genug zu tun :)
You have founded your own fashion brand. Please tell us more about it!
My label is called Hyvest and turns 4 years old in October. During this time it's developed and grown so much. It all started with plugs, after that we got moved onto other types of jewellery. Now we also provide clothing, lifestyle items and of course caps. I wanted to create things that were unique and that stands out from the crowd. HYVEST doesn't mean anything in particular, I just wanted it to be easy to remember and to sound good. You never know where your path will take you, that's why I chose a name that's neutral and individual. At the moment I'm working for myself and don't have another job, because working on my brand takes up all my time.
 Wie viele Tattoos hast du? Wie hat das angefangen?
Ich glaube das kann man mittlerweile gar nicht mehr in einer Stückzahl ausdrücken. Beide Arme, der gesamte Rücken, zwei komplette Waden; wobei eine davon noch gecovert werden muss und dann vereinzelt noch acht andere Tattoos an den Oberschenkeln und dem Rippenbogen. Klein ging es los und wie das so ist kamen vereinzelt immer paar weitere dazu bis ich beschlossen habe, das komplett tätowierte Gliedmaßen ja viel besser aussehen :D
How many tattoos do you have and when did you start getting them?
It's hard to say an exact number. I have tattoos on both arms, my whole back, both calves, (but one needs to be covered) and then I have 8 tattoos on my thigh and below my chest. I started with really small pieces and then I got more and more, until I decided fully covering body parts looked better :D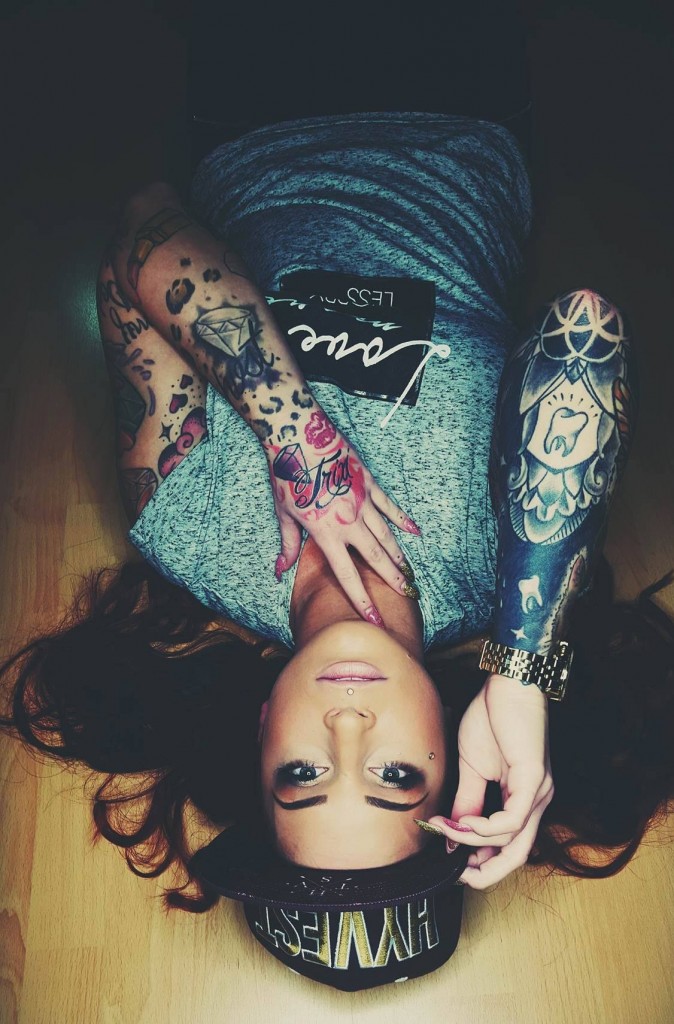 Wie würdest du deinen Style beschreiben?
Tattoo-Streetstyle und der Lippenstift darf dabei nie fehlen! Ich trage schon ganz gerne auffällige Sachen, kleide mich aber nie schick sondern immer sportlich, bin eher ein Sneaker Head anstatt einer Highheel-Liebhaberin. Dunkle gedeckte Farben sind mein Ding, Haare und Tattoos sind schon auffällig genug. Gerne auch mit passendem Make Up dazu, aber das ist kein Muss.
How would you describe your style?
Tattooed street-style and always with lipstick! I like to wear clothes that are conspicuous, but I never dress fancy, always sporty. I'm definitely more of a sneaker head than a lover of high heels. I do prefer dark clothes because my hair and tattoos are statement enough. I like to match my make up to my look too.
Welche Cap Brand ist dein Fav (außer deiner eigenen ;-))?
Bei Caps hatte ich schon immer genaue Vorstellungen und Ansprüche, da ist es wohl am einfachsten, einfach selbst welche zu machen. Jetzt trage ich deswegen mittlerweile nur noch meine, und das echt oft, den umso weniger Zeit muss ich an eine ordentliche Frisur verschwenden :D Eh ich eigene Caps im Sortment hatte, hab ich gerne PHOENIX getragen. Haben echt ne gute Quali und ich durfte sogar mal für die Brand shooten.
Which is your favorite cap brand?
I always know how a cap should look and what I expect from a cap, so I guess it's easiest to just create my own. Most of the time I just wear my own caps, which is really good, because then I don't have to worry too much about hair. Before I made my own caps, I really loved to wear PHOENIX caps. They're really good quality and I used to model for the brand too.
Welche Musik hörst du gerne?
Meine Spotify-Listen sind sehr gemischt, wobei Elektro und Black defintiv dominieren. Tanzbar ist immer gut; ruhig darf es aber auch mal sein. Casper, Marteria, Marsi und Co. sind aber auch ziemlich mein Ding.
What kind of music do you like?
My spotify is really mixed, but I guess electronic, hip-hop and rnb dominate. I love dance music but also like listening to more chilled stuff. Some artists I like at the moment are Casper, Marteria, Marsi.
https://www.youtube.com/watch?v=CrYYg_atdtk
Welches Konzert hast du als letztes besucht?
Zuletzt war ich auf dem Kosmonaut Festival bei uns in Chemnitz. Erstens weil ich mir das Zelten da ersparen kann und zweitens weils echt cool aufgezogen ist.
What is the last concert you went to?
Last concert I went to was a festival called Kosmonaut in Chemnitz. I didn't have to camp because I live in Chemnitz, which was handy. It's a really cool festival and always a lot of fun.
Was hast du dir für die Zukunft vorgenommen?
Ich möchte einfach so weiter machen wie bisher. Ich gehe langsam meinen Weg, mal sehen wo es mich noch hinbringt. Definitiv gibt es noch einige Lücken an meinem Körper zu füllen, noch ein paar mehr Follower, die ich gerne gewinnen würde und viele Designs, die ich gerne an Klamotten und Caps umsetzen möchte. Der Rest ergibt sich von ganz alleine denke ich.
What plans do you have moving forward?
I really want to carry on doing what I've been doing. I'll just take my time doing my thing and see where it takes me. There are definitely some blank areas of my body that I want to get tattooed and of course I'd love to grow and gain more followers and there are way more designs in terms of clothing and caps that I want to explore. The rest will happen by itself I guess.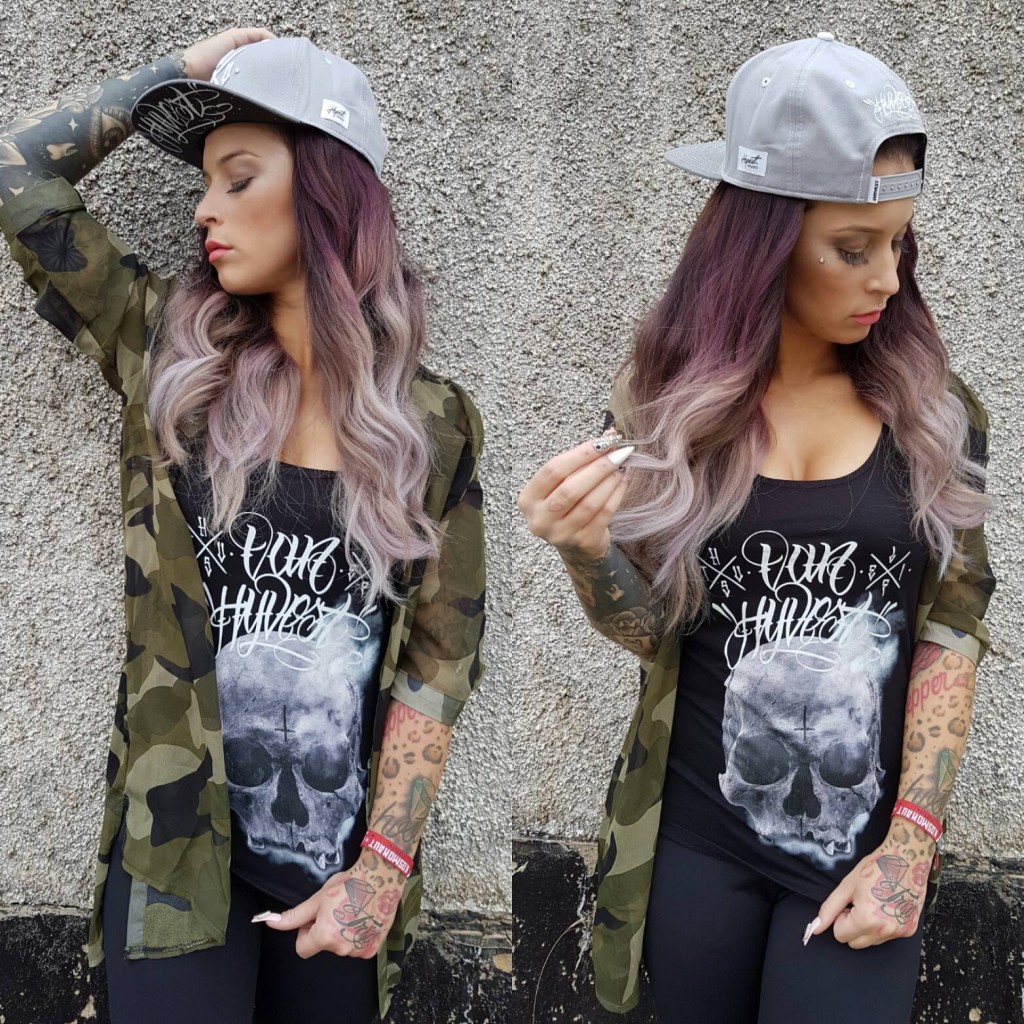 Möchtest du noch etwas loswerden?!
Freut mich riesig, das August Girl zu sein, großes Danke an Dina an dieser Stelle!
Besucht doch gerne mal meinen onlineshop: www.hyvest.de | http://shop.spreadshirt.de/hyvest
Anything else you would like to share?
I am so excited to be the August Girl, thank you Dina!
If you'd like to visit my online shop you can do here: www.hyvest.de | http://shop.spreadshirt.de/hyvest
Thanks Girl <3